From Niche Market to Broad Appeal
By
Neil Baron,
Charlie Baker
Building cool technology can be the first step in creating a product that changes the world. But…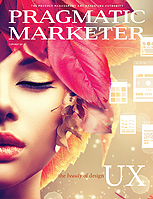 Building cool technology can be the first step in creating a product that changes the world. But just because companies have the knowledge to develop a revolutionary technology doesn't guarantee success. They may fail to understand how future customers will use their final product to solve critical problems, or even how that product will be profitable in the long run. As a result, many companies end up launching their change-the-world technology based on market assumptions and siloed opinions.
The only way to predict the market's need for new technology is to get out of your insulated office and ask the right people the right questions. As Pragmatic Marketing Rule #7 reminds us: "Your opinion, while interesting, is irrelevant." If a product is truly going to change the world, it requires market insight, commitment to solving market problems and a plan to get there.
A company called Renesys faced this challenge. Renesys had the ability to measure global Internet performance through a core technology that used a state-of-the-art global sensor grid to continuously monitor, collect, analyze and correlate Internet routing and performance data. Renesys' customers understood how the Internet changed in real time and could make decisions to ensure their products and networks were continuously available to customers and connected in the best possible way. Although interesting, the information was squarely targeted at a particular set
of customers: the business development groups and network engineering staff at Internet service providers (i.e., Comcast and British Telecom) and network service providers (i.e., Level 3 and NTT).
Dyn, the leading Internet performance provider, acquired Renesys in May 2014 and leveraged years of research and development to bring the Internet Intelligence product line to market. Dyn knew it had something unique, but not all stakeholders in Dyn's existing customer base understood the need for this technology, or what it would mean once the companies combined. Dyn's challenge was to translate its value to the broader enterprise IT market as it prepared to transition to the cloud.
Dyn understood that simply rebranding the Renesys product wouldn't be enough to create an immediate market demand for Internet Intelligence. While Dyn knew that its 3,000-plus customers needed the Internet performance products it could now produce to provide a comprehensive view of their Internet presence, their customers did not. Dyn needed to explain the value from the customer's perspective; it needed to understand its customers in a new way.

Dyn immediately understood its challenges:
1. A few large design partners drove revenue and the roadmap. Renesys products typically targeted the service provider space. Work on a market-expanding product was just getting underway, but the product roadmap for the new product suite was driven by a handful of key design partners that continued to drive revenue and requirements. Dyn needed to consider the needs of its larger customer base and how the product line would broadly appeal to them.
2. The product was designed for technical users. The Renesys Internet Intelligence product was regarded as a best-in-class solution. Technical users loved the information and detail, but to take full advantage of the solution required a high level of expertise and training. In order to gain value, non-technical users needed to have a base knowledge
of the Internet's inner workings and specifics on
the product. Relatively few users had this type
of knowledge.
3. Specific customer problems were not defined for a broader market. Just as enterprises needed the technical skill to use the original product, they also needed the technical foresight to understand how the new technology could help them. Refining current use-cases for broad market appeal became an immediate priority.
Dyn quickly recognized its need to create a process to overcome these challenges. Dyn contacted Neil Baron from Baron Strategic Partners to lead an objective, third-party effort to remove ambiguity and bias as it brought its new Internet performance products to market. The companies began work to reposition and establish customer-centric value propositions for the Internet Intelligence product line. Dyn's leadership set an external launch date of September 16, 2014, which gave Dyn something to work toward and effectively raised the urgency on the difficult process.
The Approach: Refining the Value Proposition
Any product refinement process begins with identifying the key questions that will eventually impact customers. Unfortunately, companies often make assumptions about their potential customer market. This tends to differ from actual market data and prevent a company from developing a product or service that customers value.
For example, Internet Intelligence was an innovative product for Dyn because it could tell users how the Internet was performing at any given time in any part of the world. But the relevance of these analytics would be lost on most of the potential customers that Dyn already knew. It was not a commercially viable go-to-market strategy to assume that the prospect of a "cool" technology would impress customers. Dyn needed to focus on translating the technical features of a complex product into business value that customers and prospective customers could understand.
To develop a successful go-to-market strategy, the Dyn team established a process to answer the following questions:

• What customer problems does Dyn's Internet Intelligence product line solve?
• Where is the best market fit for Internet Intelligence?
• What is the value proposition to Dyn's existing customer base?
• What does Dyn actually know about its customers, and what assumptions has it made about them?
Stakeholders learned how to engage in objective conversations to identify ideal target customers and their reasons for buying. This was critical, because for a company to deliver superior value in a profitable way, it has to choose the right customers: those who will get the most value from a vendor's offering. These customers are most likely to buy a new product and become loyal customers, with minimal discounting required by the sales team.
A company must also be absolutely clear about what value customers will receive when they buy the product and the entire organization must understand its role in profitably delivering this value.


Page 1 / 2
About the Authors
Neil Baron is an internationally recognized authority on selling and marketing innovative products, services and solutions sold to risk-averse customers. He has served in a variety of senior marketing and management roles at companies such as IBM, Digital Equipment Corporation, Sybase, Art Technology Group, Brooks Automation and ATMI. He is passionate about involving customers throughout the go-to-market process. In 2009, he started Baron Strategic Partners, a consulting firm focused on helping organizations launch groundbreaking productsand services and reenergize older ones. Contact Neil at nbaron@baronstrategic.com or through www.baronstrategic.com.

Charlie Baker, director of product management, oversees the roadmap and strategic direction for Dyn, a cloud-based Internet performance company that helps companies monitor, control and optimize online infrastructure for an exceptional end-user experience. In addition to his career in product management, Charlie served in the U.S. Air Force and assisted with design, upgrade and deployment of Space Defense and Optical Telescope systems. He is a graduate of the U.S. Air Force Academy and earned his MBA from Boston University. Follow Charlie on Twitter at @charliebakerjr.
---
---
---